Welcome to the Gothic Funk Press, a Michigan registered sole-proprietorship.

The Paramanu Pentaquark issue V is live!
---
Are you between the ages of 11 and 19, live in the Greater Flint area, and love writing?
Please join us at the Flint Public Library on the 2nd and 4th Tuesday of each month (September – June), 4:30-6 PM, for the Tween/Teen Writers Workshop!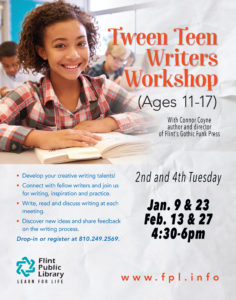 ---
The Gothic Funk Press is an independent publishing voice in the Flint, Michigan.  Founded in 2012 as an extension of the Chicago-based Gothic Funk Nation (2004-2011), the Gothic Funk Press today has a threefold mission:
– To publish, promote, embrace, and incubate literary talent in the great City of Flint
– To publish and promote literary talent from throughout the American "Rust Belt"
– To encourage literature everywhere that embraces a Gothic Funk idiom: experimental work featuring degrees of romanticism, darkness, depth, and swagger.