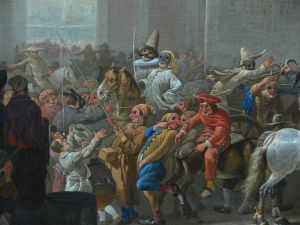 As the wheels start slowly turning – as word gets out here and there about the Gothic Funk Press' FLOOR Kickstarter – I am genuinely excited about any positive mention that we have received. I am particularly gratified by the blurbs people have written online and the spread of support we've received so far. Two days in and we are 40% of the way toward our goal. We could say that we are now more than 10% off the way to a parade, and possibly 5% of the way to a legit festival. It is exciting. It is very much on the table.
I've mentioned a few times that this idea has been percolating for a year, and while the Kickstarter video (hopefully) emphasizes the fun of the project, a real partnership between my daughter and I, and a desire to inspire one of Flint's least inspiring times of year, I also would like to show that there is serious thought here. And there needs to be, because any "brand new" Carnival celebration presents a few serious questions.
In the last few years, discussions of cultural appropriation have become more frequent and more visible. In my mind, this is long overdue; it is past time to have tough conversations about how we can respectfully honor and participate in our own traditions and those of others, about the risks and realities of commodification, and how we can best form partnerships with others within our larger human community.
I say all this because I am about to make a distinction that may seem unnecessary and picky, but which I believe to be really important and, indeed, essential to the spirit of this project. Here is the distinction:
This is a carnival project. It is not a New Orleans' project.
I am delighted that the energy and dynamism of New Orleans' Mardi Gras would be associated with the possibilities for FLOOR, but the comparable elements are limited and fraught. There are two reasons for this:
One is that New Orleans does New Orleans better than anyone, and setting up a comparison invites unflattering conclusions. Trust me, I've been to New Orleans' Mardi Gras celebrations in Chicago (typically on the following Friday Night, during which most of New Orleans would be fasting) and it always seems a little sad.
The other, related, reason is that New Orleans' Carnival traditions are not only old but very, very important to that city's unique place in the world. Far beyond Bourbon Street are storied institutions like the Mardi Gras Indians and the second-line parades. These extend back to Congo Square – a place in which slaves and freedmen were able to celebrate their culture in ways typically suppressed throughout the antebellum south – and before. So not only can Flint not do a New Orleans' Mardi Gras well, but it would be a bit insensitive to try.
This is not what FLOOR proposes.
First, Carnival celebrations are not unique to Mardi Gras. Carnival originates during the fractured Italy of the Middle Ages. While the Church prescribed a period of penitence prior to Lenten penance, the Romans and Florentines and Venetians decided they would rather celebrate with elaborate masques, feasts, parades, and parties. The original justification was the need to eat all of the leftover meat before Ash Wednesday. Hence "Mardi Gras," or "Fat Tuesday." When missionaries carried the Church's influence into other parts of the world, typically through coercive force, Carnival and Mardi Gras became an active and subversive part of local cultures; one that was able to incorporate local and indigenous cultural practice in a way that did not openly flout Church teaching and thus threaten reprisal. This explains the relevance and dynamism of Carnival celebrations down to the present day. This is also part of the reason that Carnival is celebrated differently everywhere.
Certain cities and regions have attracted fame for their Carnival and Mardi Gras traditions – above all, Brazil, Louisiana, Trinidad and Tobago, and the city of Venice. But there is no need for Flint to "copy" any of these as it establishes its own Carnival traditions (beginning, as all traditions must, with innovation). The common elements (which you see in the gorgeous FLOOR logo designed by Sam Perkins-Harbin) of beads, throws, and masks are common to most Carnival celebrations around the world and reach far back into the festivals' roots.
As we consider FLOOR, we look to New Orleans for inspiration and as a source of bulk supply ordering, but not for the heart and soul of the project. As for the unique and specific features of this Carnival celebration, we have the freedom and the privilege of making it our own. Of creating something that could only exist in Flint, and nowhere else, drawing upon our own history and our own cultural heritage. It is a good thing that it will be fun to do this, because it is our responsibility to do so!
WANT TO HELP OUT?
FLOOR will be a small project or a big project, but in this case I think bigger is better. Please consider helping us meet or surpass our goal! You could help in any of the following ways:
— If you have not already, please consider backing FLOOR on Kickstarter.
— Please share us over your social media: Facebook, Twitter, whatever. It will always be an extra boost if you can share a couple words about why the project excites you.
— Do you have a blog, newspaper, magazine, podcast, Tumblr, or television program. Consider doing a write-up on the project, or even interviewing Connor and Mary. Since there is so much self-promotion out there, many people tune it out automatically. Our ideas, in their concept and their details, are much more exciting when we aren't shouting our own praises (so to speak).