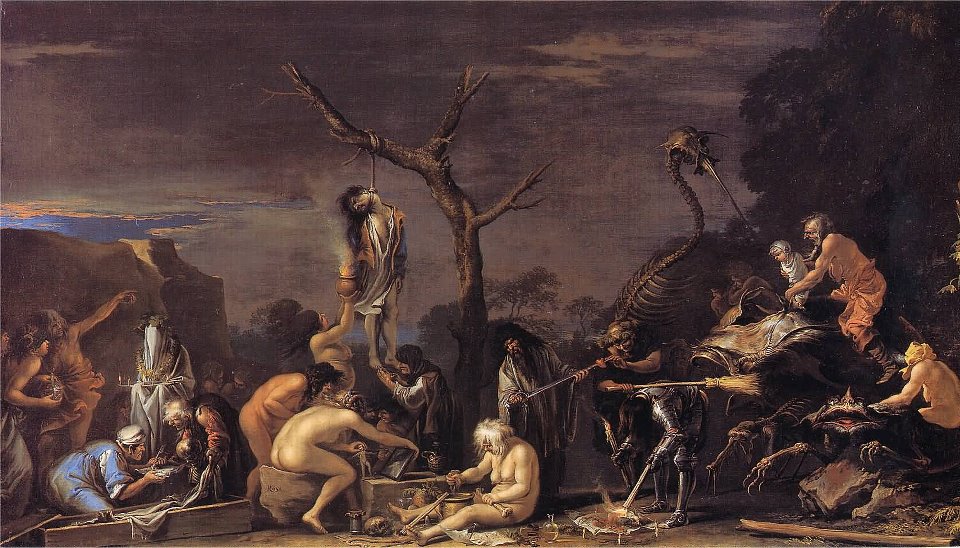 Understanding the Gothic, 410 – 2016
Part I: Bone Deep Gothic
Gothic Funk Press is happy to offer an informal course that will explore the rise of the Gothic outlook and aesthetic from its complex distant roots, guided by Gothic: 400 Years of Horror, Excess, Evil and Ruin, Richard Davenport-Hines' impassioned and eccentric exploration of the genre. In this first set of articles – hosted at http://www.gothicfunkpress.com/blog/ – we'll start with Alaric I's sack of Rome in 410 AD and proceed through the publication of the first Gothic novel, The Castle of Otranto, in 1764. Along the way we'll meet the egotistical genius Salvator Rosa and British Renaissance man Alexander Pope. We'll revisit the rapturous arguments of the Greek philosopher "Longinus" and Enlightenment-era thinkers Edmund Burke and Immanuel Kant, and we'll take a close look at the follies, ruins, turrets, and castles that ushered in the Age of the Gothic long before its macabre pen was put to paper. This introduction will set the stage for a follow up course to focus on the height of romantic and Victorian gothicism, and third and fourth courses focusing on the Gothic in the 20th and 21st centuries.
Any questions, please contact connor@connorcoyne.com.
NOTE on the READING LIST: Many of these titles are out-of-print and expensive. They can be easily found and purchased at most used-book websites and many dealers, but it may be more affordable and convenient to check at your local library. However, we do hope that you will not be discouraged from participating because you are unable to obtain books, or even if you don't have time to do all the readings. We'll be posting a short summary of each text before discussion, and hope that you'll follow along even if you can't complete all of the readings.
NOTE on COLLABORATORS: This informal project will be led by Connor Coyne, founder of the Gothic Funk Press and author of Hungry Rats and Shattering Glass.  This project is also inspired by the brilliant artists and all-around geniuses at The Porkchop Express, who are offering their own online "MFA."
NOTE on the SCHEDULE: This project was originally begun in 2014, but quickly became derailed by the birth of y second daughter and other responsibilities.  Today, in fall 2016, I am trying to revive the project and am optimistic of its greater success this time around!
READING LIST
Megan Aldrich: Gothic Revival
Morris Brownell: Alexander Pope and the Arts of Georgian England (selections)
Edmund Burke: A Philosophical Enquiry into the Origin of Our Ideas of the Sublime and the Beautiful
Anna Chalcraft: Strawberry Hill: Horace Walpole's Gothic Castle
Richard Davenport-Hines: Gothic: Four Hundred Years of Excess, Horror, Evil and Ruin
Immanuel Kant: Critique of the Power of Judgment
Immanuel Kant: Observations on the Feeling of the Beautiful and Sublime
Helen Langdon: Salvator Rosa
Longinus: On Great Writing (On the Sublime)
Horace Walpole: The Castle of Otranto
SCHEDULE
I. Ancient and Medieval Roots of the Gothic and the Legacy of Salvator Rosa
Richard Davenport Hines, Chapter 1
Helen Langdon
DISCUSSION #1: IN MEDIA RES
DISCUSSION #2: HALLOWED HALLS
DISCUSSION #3: SALVATOR ROSA, 1615-1640
DISCUSSION #4: SALVATOR ROSA, 1640-1649
DISCUSSION #5: SALVATOR ROSA, 1649-1660
DISCUSSION #6: SALVATOR ROSA, 1660-1673
DISCUSSION #7: SALVATOR ROSA'S BRITISH ADVENTURE
ASIDE: DISCUSSION #8: GOTHS BEFORE THE CURE, BY JOHN PENDELL
II. Picturesque Landscape Gardening: A Detour
Richard Davenport Hines, Chapter 2
Morris Brownell (selections)
DISCUSSION #9: MR. POPE GOES TO TWICKENHAM
DISCUSSION #10: OF NATURAL LANDSCAPES, SHAM RUINS, AND DEAD TREES
III. The Sublime
Richard Davenport Hines, Chapter 3
Longinus
Edmund Burke
Immanuel Kant
IV. The Reemergence of Gothic Architecture
Richard Davenport Hines, Chapters 4 and 5
Megan Aldritch
Anna Chalcraft
V. The Curtain Rises on a Gothic Castle
Horace Walpole