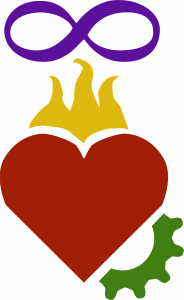 Contact: Connor Coyne
708.224.5297
connor@connorcoyne.com
FOR IMMEDIATE RELEASE
Flint, MI / 23 February, 2015 – As of March 1st, 2015, the Flint-based Gothic Funk Press will be accepting submissions for two arts journals. The journals will be titled Mark's Hat and The Paramanu Pentaquark.
Mark's Hat will be a literary journal of fiction, poetry, and creative nonfiction accepting submissions from any resident of Genesee County, Michigan. Last July, an inaugural issue of Mark's Hat was published as "an anthology of experimental literature" by Flint residents. This new edition will seek to expand the pool of submissions beyond city limits and will also include non-experimental literature, while preserving its emphasis on local writers producing quality work. Submitted work must be 7,000 words or less and will be evaluated by a panel of five readers. The first issue of Mark's Hat can be viewed online at http://www.gothicfunkpress.com/markshat/.
The Paramanu Pentaquark will be an arts journal featuring literature, visual art, music, and mixed media submitted as Images, Sounds, and Words. The Paramanu Pentaquark will accept submissions created in a "gothic funk," style, which has been described as contemporary or experimental work featuring degrees of romanticism, darkness, depth, and swagger. The Paramanu Pentaquark has already been published in three issues by the Chicago-based Gothic Funk Nation between February 2009 and June 2011. The journal published artists from around the U.S., as well as the United Kingdom, South Africa, and elsewhere. Submitted work will be evaluated by three editors. The most recent edition of The Paramanu Pentaquark can be viewed online at http://www.gothicfunk.org/parapenta/03/.
Both journals will be published online and available to the public for free. Submissions will be accepted on a rolling basis or until enough material is accepted for upcoming issues. Submissions can be uploaded from the Gothic Funk Press website at http://gothicfunkpress.com.
In addition to the 2014 Mark's Hat anthology, Gothic Funk Press has published Hungry Rats (2010) and Shattering Glass (2013), both by Flint author and Press Director Connor Coyne, and has organized several community engagement events such as the Flint Area Scavenger Hunt (FLASH) and the Flint Order of Orpheus (FLOOR). The Press hopes that the forthcoming issues of Mark's Hat and The Paramanu Pentaquark will be an opportunity for Flint to share its creative talent with the world, as well as to provide a showcase for international talent here at home.
# # #