THE PARAMANU PENTAQUARK, ISSUE NO. 4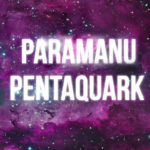 May be read here.
Featuring poetry, painting, photography, and music by artists from the United States, the United Kingdom, and South Africa. Featured artists include Jessica Fogle, Graeme Gerard Halliday-Hallidonto, Sarah-Jean Krahn, Esther La'Montagne, Lisa M. Land, and Lumumba Mthembu.
ATLAS
a collection of short-stories by Connor Coyne.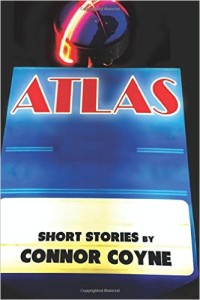 Print and Kindle editions available here.
Two twins born to an ex-autoworker and a forest spirit seek their place in the world. An aging widower sets out on a journey through time and space to reunite with his wife. An eccentric billionaire destroys human civilization by causing the earth to rotate from north to south. In this collection of thirteen essays and short stories and thirty pieces of flash fiction, Flint-based author Connor Coyne explores the surreal, the macabre, and, above all, the poignant transience of life in a world that seems to change before our very eyes. The whole collection is bookended by meditations on one of Flint and Michigan's most enduring gifts to the larger world: the Flint-Style Coney Island. The title and cover are an homage to the Atlas Coney Island Restaurant, itself a longtime Flint institution. General Motors may not be making nearly as many cars there as it used to be, but there is no better place to eat encased meats topped with more meat. Atlas features selections written between 2006 and 2015. Some selections have been previously published in journals including the Santa Clara Review, Moria Poetry Zine, the Moomers Journal of Moomers Studies, and elsewhere.
MARK'S HAT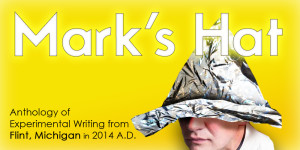 May be read here.
Featuring innovative writing by Flint residents including Paul Counelis, Connor Coyne, Nic Custer, Desiree Duell, Michael Evans Kelly, Bob Mabbitt, Ruby Spademan, Tom Sumner, Jan Worth-Nelson.
SHATTERING GLASS
a novel by Connor Coyne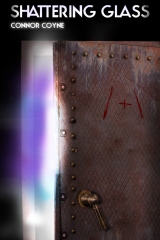 Print and Kindle editions available here.
Just when the whole world has written off the city of Arkaic, Michigan, billionaire A. Olan puts up funds for a new university in an abandoned psychiatric hospital. There, strange engines turn human memories into electrical power. Join students Samo, Monty, Ezzie, and Dunya as they study, work, flirt, explore, and battle powers of ancient evil. Will they survive their first year of college?
HUNGRY RATS
a novel by Connor Coyne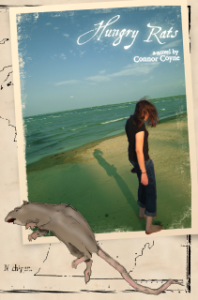 Print edition available here.
Kindle edition available here.
Adobe Reader edition available here.
The Rat Man, a serial killer, is on the loose in Flint, Michigan, and nobody can stop him. Except you, Meredith Malady, a high-school girl with a dysfunctional family and a score to settle. Running away from home is the first step, but where will you stay? How will you survive? And what will you do when you meet the Rat Man face to face? Connor Coyne's debut novel, described by Heartland Prize-winning author Jeffery Renard Allen as "an emotional and aesthetic tour de force," is told in gripping second-person. An unknown narrator speaks to Meredith as she struggles to tie together the threads of her own history and to bring a killer to justice.
Learn more about Hungry Rats and read the first chapter for free here.